REVVING UP FOR RUSH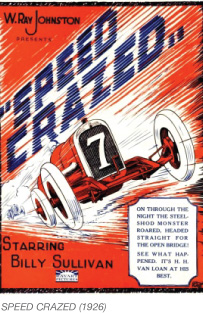 Movies move. Always have. So you could say the film community has been revving up for RUSH, Ron Howard's new racecar movie, from the get-go. The Universal Pictures release starring Chris Hemsworth as 1970s Formula One driver James Hunt roars into theaters September 20th, the latest in a long (though fast-moving) line of racecar films. That's reason enough to reacquaint ourselves with the hottest wheels in American film history. So gentlemen (and ladies), start your movies…
A quick glance at the AFI Catalog of Feature Films reveals 159 titles of auto racing movies, beginning in the silent era with THE RACE (1916). In 1919 alone, early filmgoers thrilled to the never-before-seen stunts in GREASED LIGHTNING, THE ROARING ROAD and THE SPEED MANIAC. Trailing close behind were EXCUSE MY DUST and HIGH SPEED in 1920 and THE ROAD DEMON (1921). The Jazz Age, when America's youth flouted convention and raced their roadsters to the big football game, gave us SPEED CRAZED, THE SPEED LIMIT and THE SPEEDING VENUS – all released in 1926.
America's car culture came into its own in the1950s when the Interstate highways were built, Detroit boomed and high school shop classes trained auto mechanics. The decade also saw the rise of disaffected youth whose need for speed was expressed in films like HOT ROD GIRL (1956), HOT ROD RUMBLE (1957), and HOT ROD GANG (1958). The next national youth movement, the '60s counter culture, was more about long hair than hairpin turns.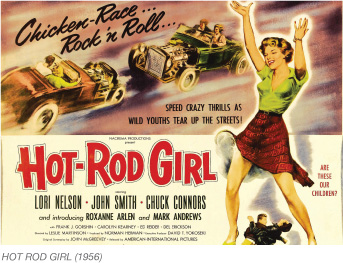 Hippies ditched their VW microbuses on their way to Woodstock as sex, drugs and rock 'n roll eclipsed chrome, fins and racing stripes. Of course, cops still drove in BULLITT (1968). Ditto racecar drivers in GRAND PRIX (1966). But those adult characters were the grown-up children of the '50s. It made perfect sense that the tricked-out DeLorean DMC-12 of BACK TO THE FUTURE (1985) took us back to the '50s, a decade when the car could be properly appreciated.
Whether filmmakers ignited America's love affair with the internal combustion engine or merely reflected the country's passion for the open road and the fight not just to keep up with the Joneses but to zoom right past them, is a matter for discussion – perhaps when you're stuck in highway traffic on Labor Day weekend. As your engine idles and the planet warms, no one will blame you for fantasizing about burning rubber and spinning into a four-wheel drift like Vin Diesel in the FAST & FURIOUS street racing franchise or tearing up a NASCAR track like Tom Cruise in DAYS OF THUNDER. Or is the roar and blur of Formula One more your speed?
Among the leading men associated with racecar movies are Tom Cruise (DAYS OF THUNDER), James Garner (GRAND PRIX), Steve McQueen (BULLITT, LE MANS), Paul Newman (WINNING), Elvis Presley (SPINOUT, SPEEDWAY), Burt Reynolds (SMOKEY AND THE BANDIT, THE CANNONBALL RUN, STROKER ACE, DRIVEN) and Sylvester Stallone (DRIVEN). The women in their movies are often portrayed as sexy hood ornaments for hard-driving, ambitious, often haunted heroes. These women tend to worry about their man's safety or form love triangles with his racing rivals as Annette Funicello did with Frankie Avalon and Fabian in FIREBALL 500 (1966). Funicello and Fabian also co-starred in THUNDER ALLEY (1967) with Warren Berlinger as the romantic/race track rival. While Lonnie Anderson (STROKER ACE), Sally Field (SMOKEY AND THE BANDIT), Nicole Kidman (DAYS OF THUNDER), Eva Marie Saint (GRAND PRIX), and Joanne Woodward (WINNING), have played romantic leads in racecar movies, Bonnie Bedelia owns the distinction of playing the drag racing lead Shirley Muldowney in HEART LIKE A WHEEL (1983). With more women like Danica Patrick and Janet Guthrie excelling on the track, movies of their exploits cannot be far behind.
Auto racing movies would screech to a halt without stunt drivers. William "Bill" Hickman (1921-1986) careened through a brilliant career, jumping the hills of San Francisco in BULLITT (1968), chasing an elevated train in THE FRENCH CONNECTION (1971) and competing in a race in THE LOVE BUG (1968). Hickman had been advising his friend, actor James Dean, about driving techniques in the weeks before the young star's fatal crash in 1955 and was the first to arrive at the scene of Dean's accident.
We spoke with Donn Cambern, Senior Filmmaker-In-Residence at the AFI Conservatory and former president of the Motion Pictures Editors Guild about the importance of editing in auto racing movies. Cambern, who edited SMOKEY AND THE BANDIT II and THE CANNONBALL RUN for stuntman-turned-director Hal Needham, believes "the most important aspect [of editing] is that the audience gets into the emotional rhythm of the piece…[In] auto racing, obviously, there are many colors, there are good guys, there are bad guys, there are some cars or drivers who are better than others. And the weight of each one of those aspects is what brings an audience deeply into the story."
Cambern explained that when a film audience is completely engaged "they've lost that sense of real time. Editing plays a huge role in that because there are many things you can deal with. In auto racing, there are the different kind of machines, the difficulties in handling those machines, the incredible speeds that they move at – all of those wonderful mechanical things, the skill of the driver and so forth. But the thing that really puts it even deeper is connecting emotionally to the different drivers. Rooting for One or rooting for Two…You have a driver who's been having a difficult time on the circuit. You like him. He does some devilish things, whatever. As an audience, you begin to form a relationship with this guy and experience his difficulties and his triumphs."
To Cambern, editing auto racing is not about pace. "Sometimes the standard thinking is: Cut quicker to create a faster so-called pace. Pace…is a word that I hate because it only means 'go fast,' 'it's perfect' or 'go slow.' That's not what it's about. That's why I use 'emotional rhythm' because there is a rise and fall, particularly in a race." Cambern recalls cross-cutting between Burt Reynolds and Sammy Davis, Jr. and the difficulties that each was having in THE CANNONBALL RUN. "You are glued to the race because of the difficulties at this moment and not necessarily concerned with who's going to win. We did that a lot in CANNONBALL." The editor recalled dealing with different racers, imagery, story, dangers and thrills. "Sometimes the question is not to cut quicker because the shot itself tells everything; you don't need a cut. The speed of the action in the shot is telling you what is going on at a particular time. In a well-cut race sequence, the audience is privy to certain things that perhaps the particular driver is not privy to. A tire might start to wear at high speed, striking danger immediately into the audience's feelings. And there it goes – it blows! And the car spins, and maybe creates a terrible accident. Sometimes it's the fact that someone is almost on the verge of running out of fuel and they just barely make it into the pits or, in CANNONBALL, they get stranded."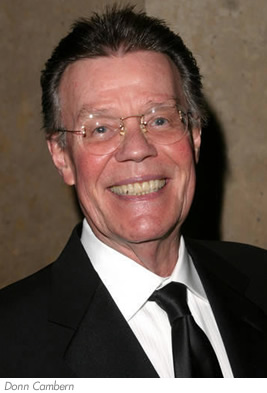 According to Cambern, editors are duty bound to help the director realize his or her vision. "In the cases where that vision is opaque, it has to be found in the film," he said. "I would guess the amount of footage shot on this movie coming up with Ron [Howard]…would be well over a million feet shot and printed." Cambern puts the ratio of shot to used footage at 100 to one, with a two-hour movie consuming close to 11,000 feet of film. "In order to get that [amount], it's easy to shoot a million feet," said Cambern. "And you've got to go through it… Because there's always some special jewel in there that all of a sudden brings the sequence to life."
Cambern is a fan of Formula One and IndyCar racing. "There's a finesse to Formula One racing, the way the cars are constructed, the open wheel racing, which can be quite dangerous, the fact that they're sitting just about four inches off the pavement going 180 miles an hour…Just to be in the amazing protection that they drive with in terms of their cockpit. That they can have these horrible crashes and they're able to walk away – it's completely startling. Which raises the stakes as to how racing is going to be done, because they know at some level that they have an enormous level of protection around them…What strikes me in Formula One and Indy, each driver, no matter how incredibly competitive he is, will, at a certain point, give to the other person. It might be for a safety reason, it could be for many reasons, so that there's a certain gentlemanly aspect about it that I appreciate." Cambern plans to see RUSH when it opens later this month. "It's Ron Howard, so I know it's going to be a good story."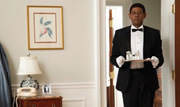 AUGUST
Lee Daniels' THE BUTTLER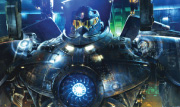 JULY
KAIJU! Ron Perlman on PACIFIC RIM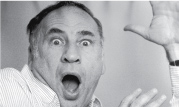 JUNE
25 Fun & Fascinating Facts about Mel Brooks
MAY
The Great Gatsby: Now (and Then) a Major Motion Picture