×

One hundred years ago, a young stage actress and her sister visited a motion picture studio and agreed to take part in the filming of a short film entitled AN UNSEEN ENEMY (1912). The plot involved two young orphaned sisters whose fortune was threatened by thieves. Lillian Gish and her sister Dorothy looked so much alike that the director, a young fellow named D.W. Griffith, tied red and blue ribbons in their hair to tell them apart.
In 1984, Gish was honored as the 12th recipient of the annual AFI Life Achievement Award and American Film™ celebrated the occasion with this article by author, filmmaker and film historian Kevin Brownlow. Gish, the star of such silent film classics as THE BIRTH OF A NATION (1915), INTOLERANCE (1916) and THE WIND (1928), enjoyed a long career as an actor, director (REMODELING HER HUSBAND), screenwriter (THE GREATEST THING IN LIFE, REMODELING HER HUSBAND and SILVER GLORY) and producer (SILVER GLORY).
Following this article's publication, Gish went on to appear in HAMBONE AND HILLIE (1983); a television version of HOBSON'S CHOICE (1983); the PBS American Playhouse television movie of ADVENTURES OF HUCKLEBERRY FINN (1986); and Alan Alda's SWEET LIBERTY (1986). She last appeared with Bette Davis and Vincent Price in Lindsay Anderson's THE WHALES OF AUGUST (1987).
Lillian Gish died in 1993 at the age of 99. She ranks #17 among the women on AFI's 100 Years...100 Stars greatest American screen legends list. (Katharine Hepburn topped the list, while Humphrey Bogart topped the list of male legends.)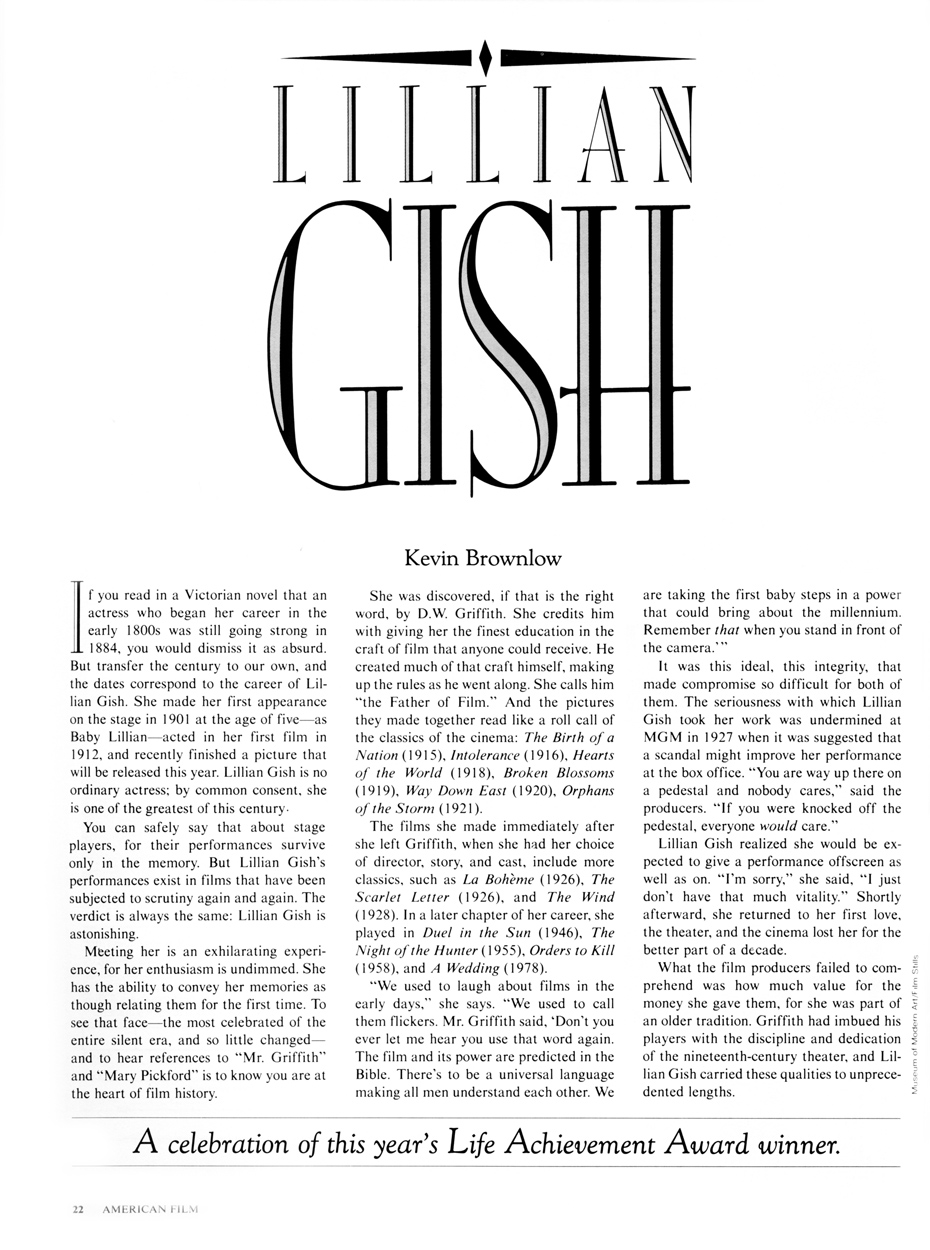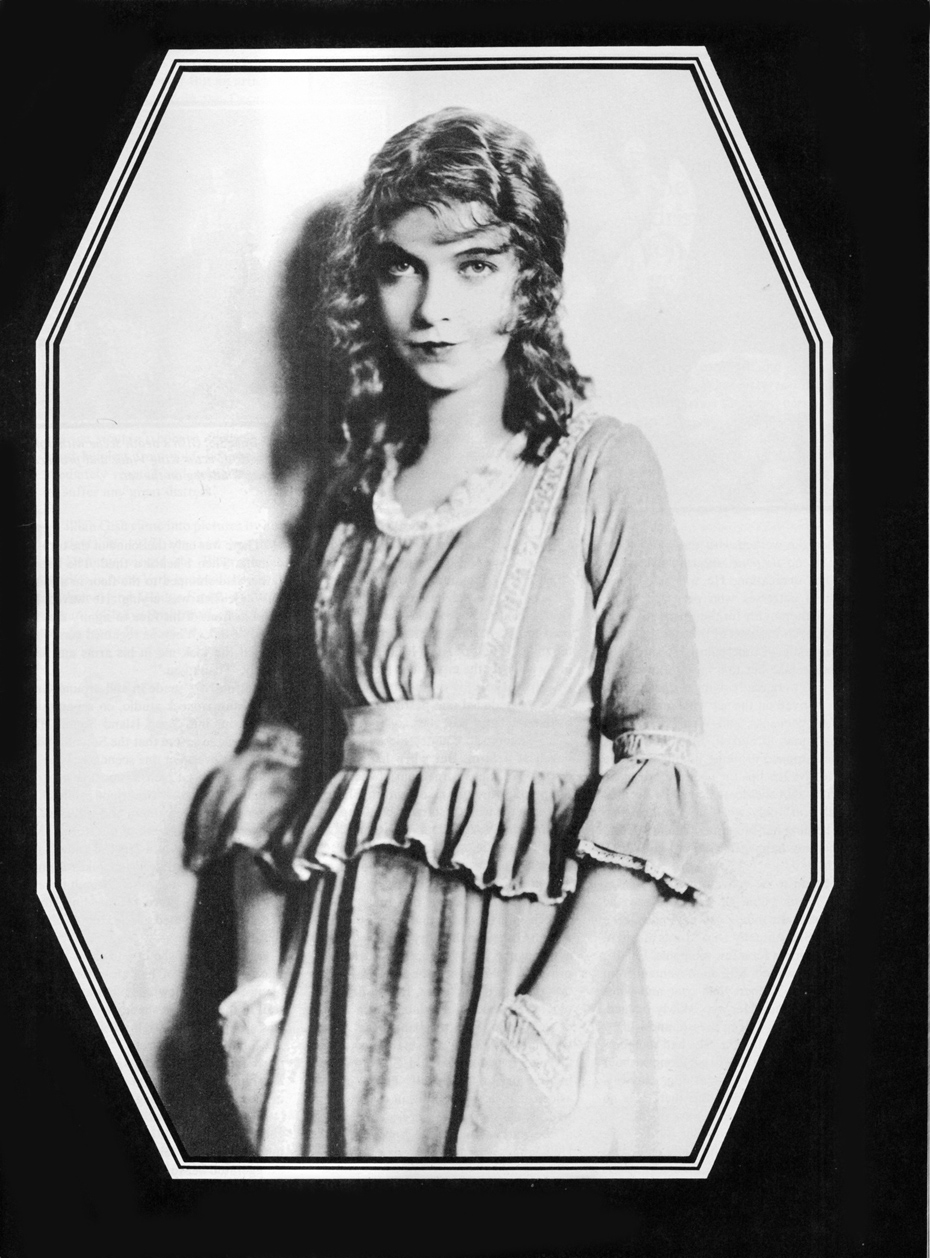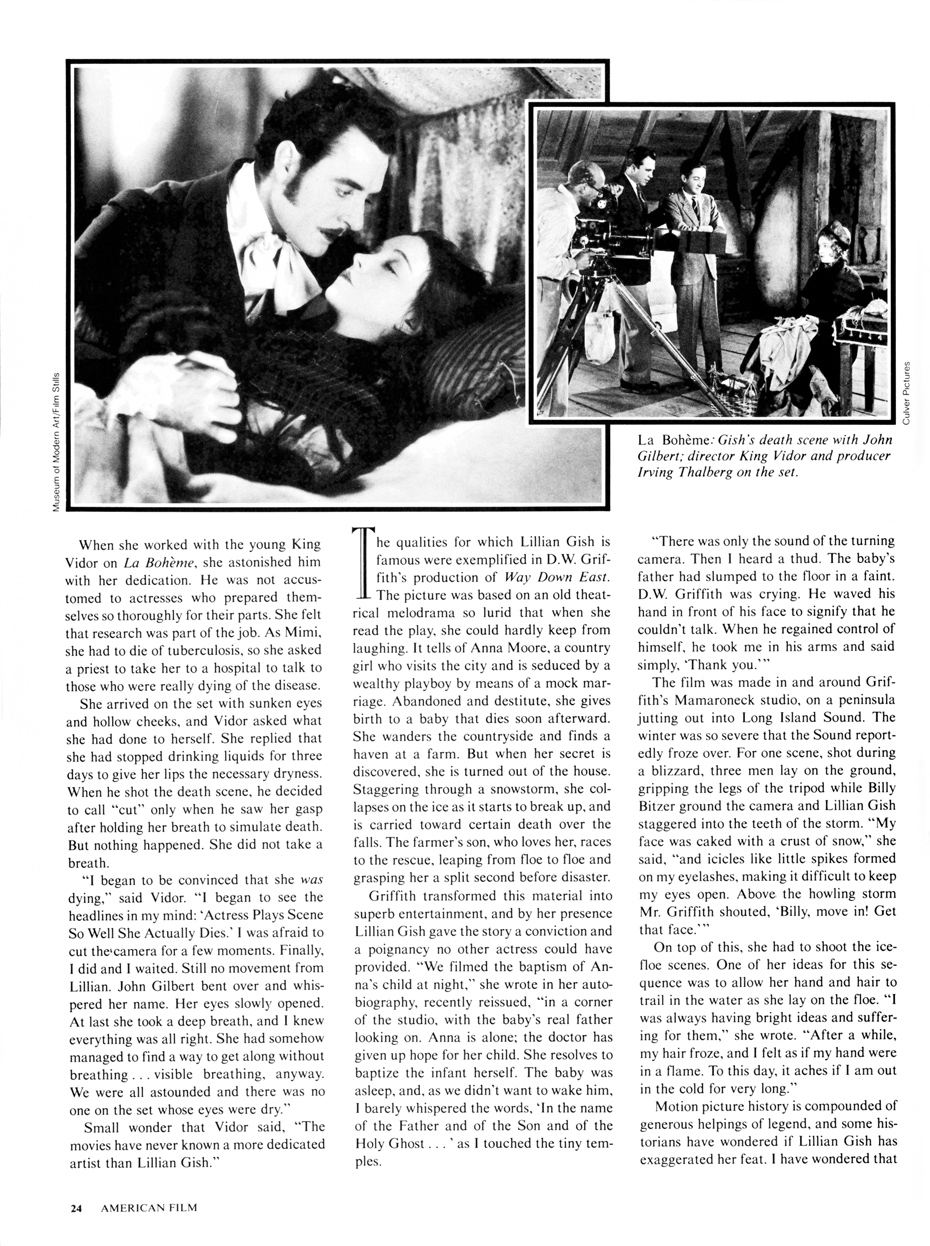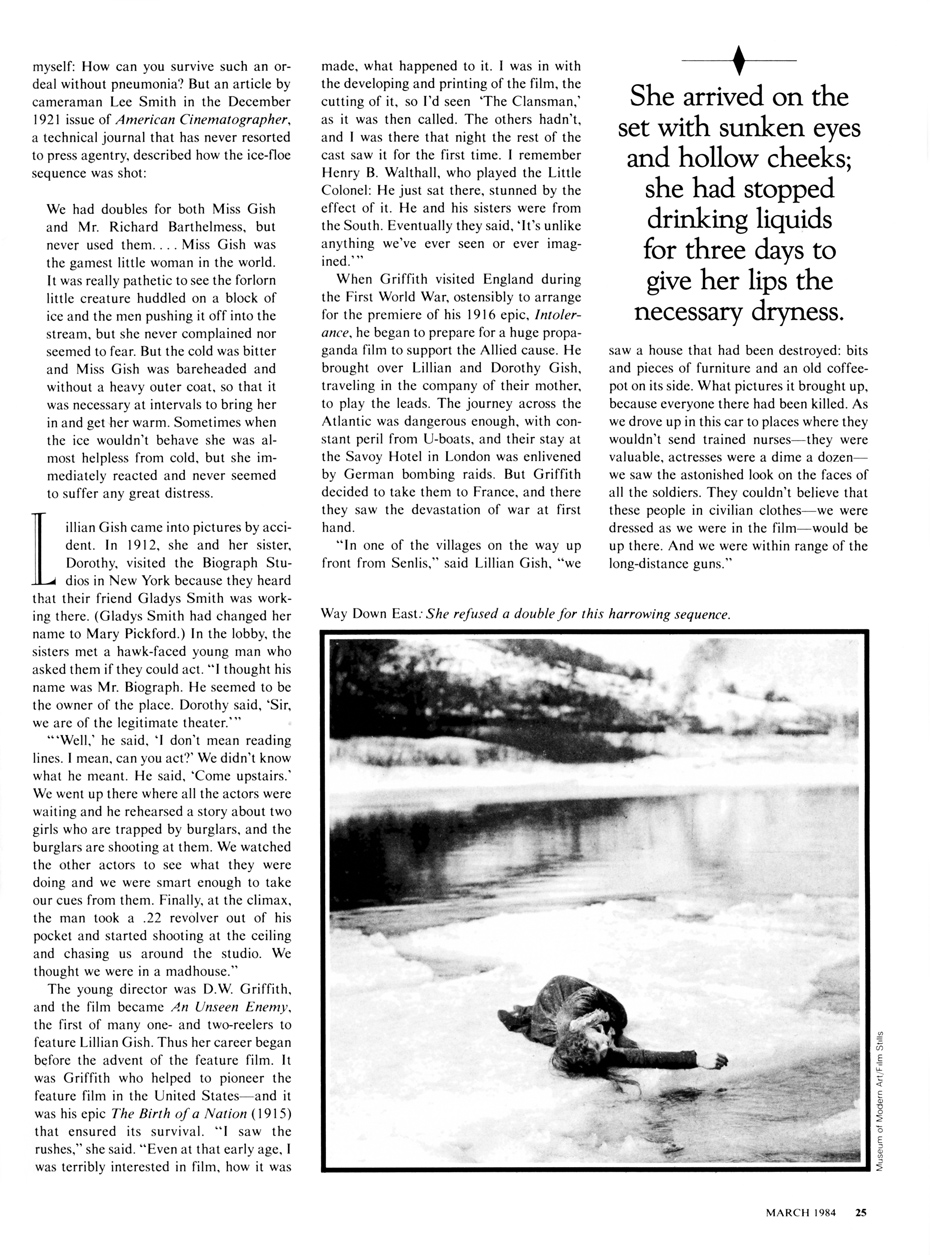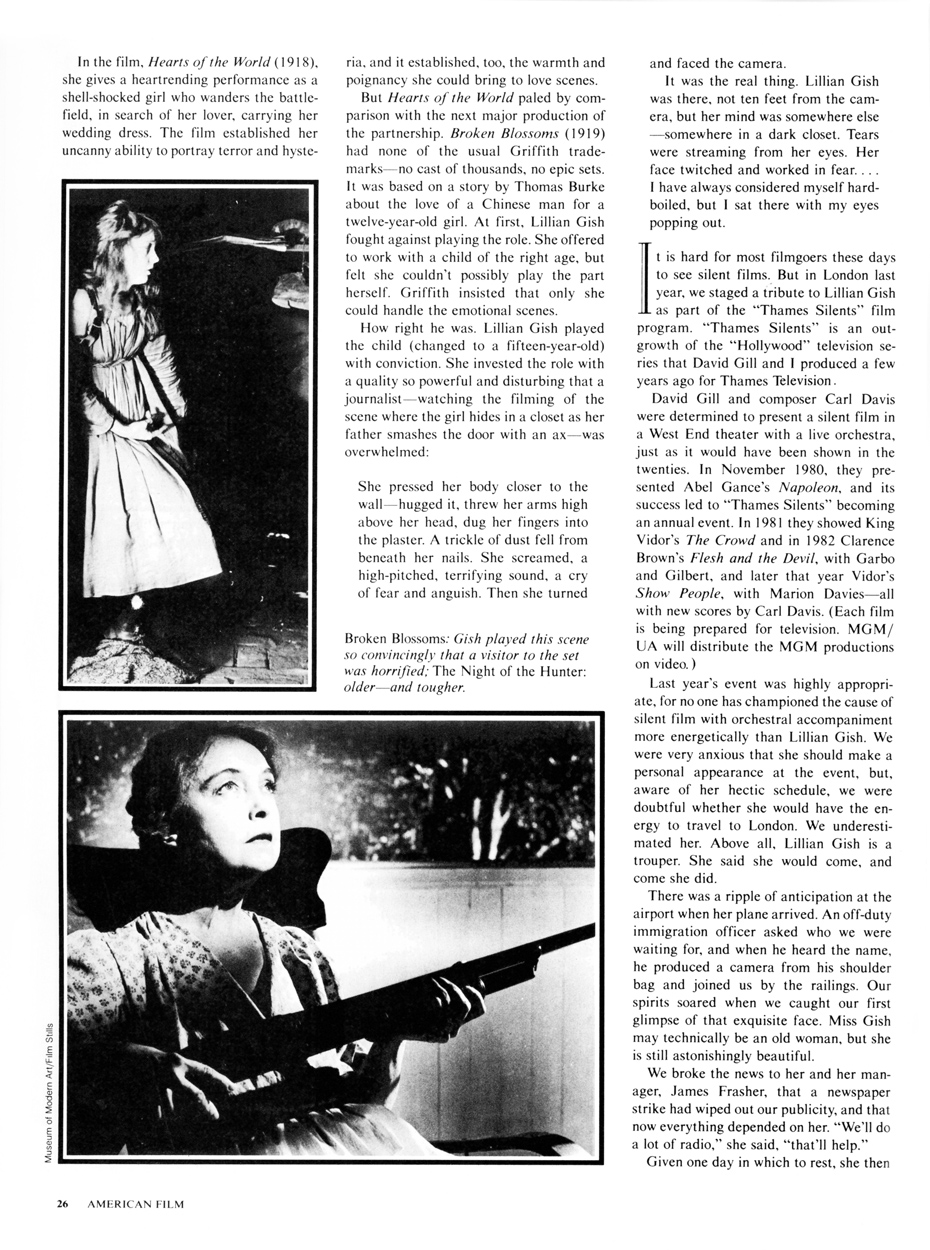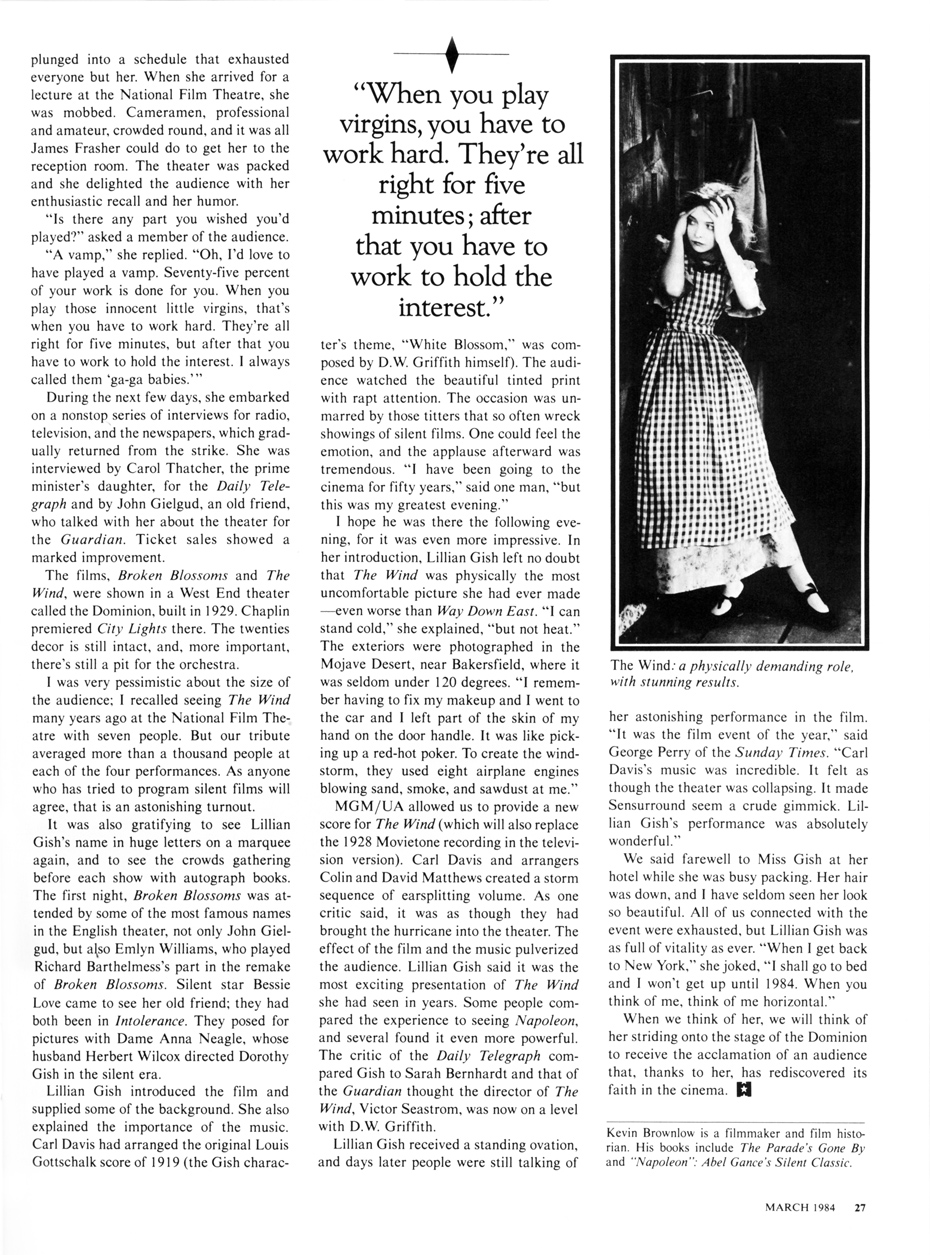 Gish appeared in THE WIND, based on the novel of the same title by Dorothy Scarborough, in 1928. Originally, the film's ending followed the novel's: Gish's character Letty, driven insane, wanders off into the desert. According to modern sources, studio officials insisted upon a happy ending, however, before the film's release.

For more on THE WIND, visit the AFI Catalog of Feature Films