AFI FEST: MANY GALAS, ONE AGNÈS VARDA
AFI FEST, which runs November 7–14, is "a celebration of Hollywood today – where icons and emerging artists bring audiences together to experience global cinema in the movie capital of the world." In addition to free presentations of the best independent cinema culled from the year's major film festivals, AFI FEST presented by Audi will host several galas, including an Opening Night Gala and North American Premiere of SAVING MR. BANKS starring a pair of double Oscar®-winners – Tom Hanks (FORREST GUMP, PHILADELPHIA) as Walt Disney and Emma Thompson (HOWARDS END, SENSE AND SENSIBILITY) as "Mary Poppins" author P. L. Travers; and a Closing Night Gala screening of the Coen Brothers' INSIDE LLEWYN DAVIS, set in the folk music scene of New York in the 1960s and starring Oscar Isaac, John Goodman, Carey Mulligan and Justin Timberlake. Six Centerpiece Galas have been announced: the World Premiere of Scott Cooper's OUT OF THE FURNACE; Alexander Payne's NEBRASKA, accompanied by a Tribute to Bruce Dern; THE SECRET LIFE OF WALTER MITTY, directed by and starring Ben Stiller; AUGUST: OSAGE COUNTY directed by John Wells; Bernardo Bertolucci's THE LAST EMPEROR 3-D; and LONE SURVIVOR directed by Peter Berg. In addition, the festival's Guest Artistic Director Agnès Varda, widely regarded as the Mother of the French New Wave, will be returning to Los Angeles, where she lived for many years, as the subject of a new exhibition at the Los Angeles County Museum of Art (LACMA). Here are three short pieces in celebration of those Gala films – and the one and only Agnès Varda.
SAVING MR. BANKS:
THE FAITHFUL ADAPTOR
INSIDE LLEWYN DAVIS:
OSCAR ISAAC'S ROLE OF A LIFETIME
WELCOME BACK, AGNÈS VARDA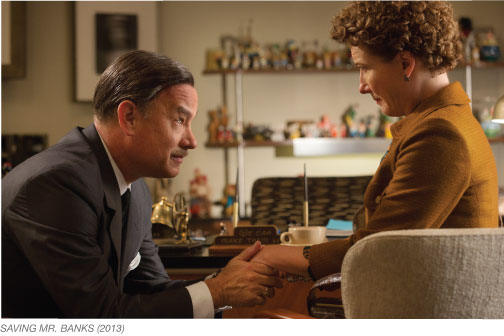 SAVING MR. BANKS:
THE FAITHFUL ADAPTOR
SAVING MR. BANKS, the Opening Night Gala film at AFI FEST, shapes up as a battle of wills between Walt Disney (Tom Hanks) and "Mary Poppins" author P.L. Travers (Emma Thompson). Set in 1961, the film reveals the "backstory" of the struggle to turn the classic children's novel into the beloved 1964 movie musical starring Julie Andrews and Dick Van Dyke – #6 on AFI's 100 Years of Musicals list. SAVING MR. BANKS is all about literary rights, personal reasons and the high risk – both emotional and professional – of refusal.
We turned to L.A.-based screenwriter and AFI Conservatory Senior Lecturer Karen Janszen (A DOLPHIN TALE, A WALK TO REMEMBER) to help us understand the process of adapting literary works for the screen. Fortunately, she did not refuse. Janszen has over 20 years' experience writing screenplays for film studios and cable outlets, and has sold original pilots to ABC and CBS. While she has worked on thrillers, romantic comedies, and historical epics – and done un-credited polishes on two animated films – she is best known for family and teen dramas. Born and raised in Massachusetts, Janszen is an AFI double alumna: Screenwriting MFA (1991) and The Directing Workshop for Women (2006). She also holds an MA from Harvard University and a BA from the University of California, Santa Cruz.
In most studio pictures, Janszen explained, there is little consultation between the original book author and the screenwriter. "Collaboration between book author and screenwriter, in which the author has real input, happens more often in indie films where the writer is also the director," she explained. Even so, she feels all screenwriters should take their responsibilities to novelists very seriously. "A screenwriter must always respect the story, feel a responsibility to it, know it inside and out – and then write a film that honors it while not necessarily re-creating it for the screen," said Janszen. "Film is a literary form with its own creative constraints and possibilities. The finest adaptations capture the best of the book – story, characters, themes, the voice of the author – always carefully balancing preservation and new invention. Depending on the book, the scale can tip one way or another. The HARRY POTTER films and THE DESCENDANTS were truer to the books; ABOUT SCHMIDT was nearly a complete re-imagining. Either way, a film adaptation must be an original in its own right; as an artistic endeavor, it must stand alone."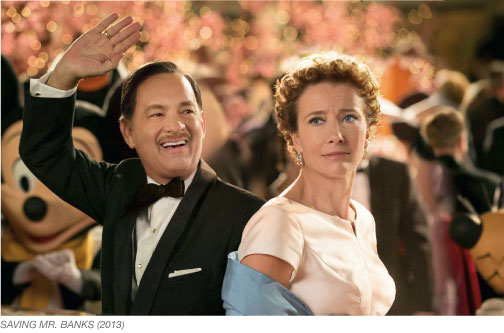 It has long been conventional wisdom in Hollywood that the worst books – the ones with action, plot, simplistic structure, characters with little ambiguity and no internal conflict – make the best films. According to Janszen, "that's mostly because films are considered better at the externals – the things that can be seen and heard. The language of film is image, sound, action, dialogue. Getting inside a character's head – that interior-ness and intimacy – can be problematic for filmmakers. In the right hands, however, complex and compelling novels – even those that are not – can make complex and compelling films."
Faithfulness to the original is not an overrated virtue to Janszen. "You owe it to the book and the book's author to be faithful. But there are different shades of faithful and to what. There's faithfulness to the story, a character, the story world, the dialogue, the ending. To me, adaptation encompasses translation, interpretation, even transformation. Sometimes, depending on the amount of invention needed to adapt a book to the screen, the most faithful you can be is to write a script 'inspired by,' not 'based on.'"
In SAVING MR. BANKS, Walt Disney, having struggled to understand why the author of "Mary Poppins" has been so protective of her novel, finally wins the rights to make his movie. Did everything end as happily for P.L. Travers? "If you read the history of what happened after Travers sold the film rights," said Janszen, "you find that she said she was very unhappy with the adaptation; she expected, in every way, for it to be more faithful to the stories and to the character. Legend is Travers watched the film with tears of grief welling. She claimed she felt betrayed."
The new Disney film written by Kelly Marcel and Sue Smith interprets those tears quite differently – and plausibly. Regrettably, P.L. Travers died in 1996, so we will never know her reaction to SAVING MR. BANKS.
BACK TO TOP >>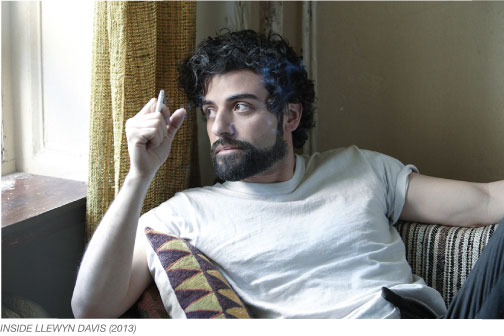 INSIDE LLEWYN DAVIS:
OSCAR ISAAC'S ROLE OF
A LIFETIME
What a pleasure it was speaking with Oscar Isaac, the young actor and musician, born in Guatemala to a Cuban father, who grew up in Miami, then studied acting at Juilliard. The star of the new Coen brothers movie has already made a name for himself in films like AGORA (2009), SUCKER PUNCH (2011) and THE BOURNE LEGACY (2012). Now his break-through leading role will crown the Closing Night Gala at AFI FEST 2013 presented by Audi. As he reveals in the interview, Isaac's open, generous nature led him directly to the person who could help him the most in becoming Llewyn Davis. A lesson for all aspiring actors out there: It takes a Greenwich Village.
First, let's set the scene. What have you been doing all day, and where are you now?
I've been doing some interviews here and there, and I'm in the airport, at LAX, going to London for the film festival.
Before you entered the U. of Miami and later Juilliard, did you act in school plays in high school?
I did. Yeah, I did act in high school – actually, more in elementary school. In high school, I spent most of my time in rock 'n roll bands, punk bands and all sorts of different genres of bands.
What did you study at Juilliard – music, acting or both?
No, I wish it were music. Those are some of the best musicians in the world over there. No, I got in for theater.
How did you get involved in this project?
Pretty traditional means: I just showed up. I heard about it. Auditioned a couple of times, and I won the role.
Tell us about the character of Llewyn Davis. Obviously, you're both musical, so what was the biggest stretch, the greatest challenge?
There were so many challenges. It was a role of a lifetime and I just really talked myself into the world of the movie, of 1960s Greenwich Village, New York – the pre-Dylan, great folk scene that was happening and into this character who's both wanting desperately to succeed, and also desperately to fail. And then on top of everything the character is, I was learning that repertoire of music, which is Dave Van Ronk's repertoire, learning how to play that style of music, which I wasn't familiar with – the 'Travis' picking – those kind of syncopated rhythms and then singing and playing live, documentary style...I'd say I definitely found the character through the music. I think that's the window into his soul, his only connection to the people outside. But also the way he walks and the way he interacts with people and what his engine is emotionally – all those things contributed.
You weren't around in the '60s, so how did you find out what they were like?
It was amazing, actually. Before my audition, I met this guy who just happened to be playing an extra in a small movie I was doing, and in between takes he picked up a guitar and started playing. His name is Eric Franzen. And he was one of the most amazing finger-pickers I had ever heard. And I was like, 'What's your story?' 'Well, I was a musician in New York, I've been living here for years.' 'You know Dave Van Ronk?' 'And he was like, 'Yeah, I played with Dave.' And so he kind of taught me about that time. He lived on MacDougal Street above the Gaslight. And he taught me how to play, he played me all the old records. And then I played in a lot of coffee houses around the Village and in Brooklyn.
What was the process of working with the Coen Brothers? Did you discuss or rehearse much?
It was the best experience of my life. They're so generous – not only with their time, but with stories about these people that they've worked with and artists they admire. It was an incredible, joyous process, even though it's quite heavy material. They're very pragmatic, they don't put any imposition on you or come in with any kind of idea in particular that they want you to do. There's room to play. Llewyn is a man of few words, but they write even into the ellipses. The sentence could be: ' Uh, dot-dot-dot uh...yeah...' Within the context of the scene, in the dialogue, it's like a little goldmine for an actor. They give you room to think and play within those ellipses.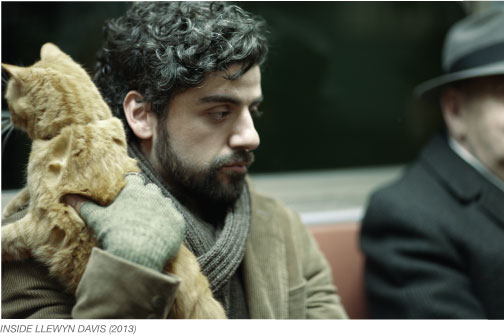 Did you model your character after Dave Van Ronk or Bob Dylan or anyone else?
Musically, I actually stuck pretty close to Dave Von Ronk's repertoire...and, of course, I grew up listening to Dylan, so I'm very familiar with that. For the character, I thought a lot about the comedy of resilience. Buster Keaton was someone that came to mind. He had quite an impassive face with a melancholic stare on it. All of these crazy things could be happening, he could be falling in love or a building could be falling on him, but it was all internalized.
You've done Free Shakespeare in Central Park and performed live as a musician, most recently at Town Hall in New York. Which do you prefer – live performance or film acting?
I go back and forth all the time. They're so vastly different. There's something obviously very immediate about live performance, and the rush of that is unlike anything else. But the nuance and the detail that goes behind acting for film is, at this moment, incredibly interesting.
Here's a last question for you that Carey Mulligan's character puts to Llewyn in the film: 'Do you ever think of the future at all?'
'You mean like...robots?' It's hard, man. I'm a little bit like Llewyn in that sense. That's his response in the movie: 'You mean like flying cars?' – meaning, no, it's very difficult to predict anything in the future because things change so rapidly. But I know that in the present, things couldn't be better.
BACK TO TOP >>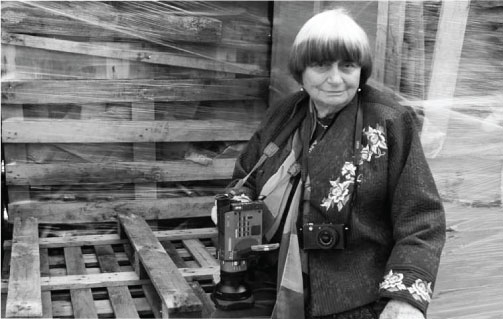 WELCOME BACK,
AGNÈS VARDA
The selection of Agnès Varda as Guest Artistic Director of AFI FEST coincides with the first U.S. exhibition of her work at the Los Angeles County Museum of Art (LACMA) – two major cultural events that have combined to make an especially warm homecoming for the Belgian-born French filmmaker and educator. Varda made Los Angeles her home from 1968 to 1970 and returned from 1979 to 1981. She made five films in California – UNCLE YANKO, THE BLACK PANTHERS, LIONS LOVE, MUR MURS and DOCUMENTEUR – the first four of which have been restored by LACMA, the Annenberg Foundation and the Film Foundation.
"Agnès Varda's work in California often focused on people living on the margins of society; street artists, hippies and political revolutionaries," said Festival Director Jacqueline Lyanga. "Her curiosity as an artist led her to seek out untold stories and unique individuals. She took these California experiences and returned them to us in a new light." Among the artists with whom Varda associated in L.A. were Jim Morrison of The Doors (she was one of a handful of people to attend the singer's 1971 funeral in Paris); Gerome Ragni and James Rado, who wrote the book and lyrics to the musical "Hair"; and a then aspiring young actor named Harrison Ford. According to Lyanga, Varda was selected as Guest Artistic Director because she is one of the most influential filmmakers of the French New Wave. "She is an uncompromising artist with a unique and personal vision," said Lyanga.
The museum's eight-month long exhibition, "Agnès Varda in Californialand," opens November 3 and will include Varda's photography and a major new sculptural installation inspired by her time in Los Angeles. "It is extraordinary that the city of Los Angeles is going to have the opportunity to experience the full breadth of Agnès Varda's work as an artist this fall," said Lyanga. "The LACMA program that focuses on her work as visual artist is a perfect complement to the celebration of her influence as a filmmaker that will take place at AFI FEST."
For more on Agnès Varda, watch our exclusive clip here.
BACK TO TOP >>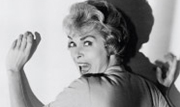 OCTOBER
The Scariest Film Survey You'll Ever Take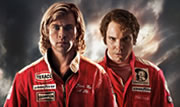 SEPTEMBER
Revving Up for RUSH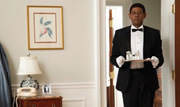 AUGUST
Lee Daniels' THE BUTTLER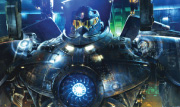 JULY
KAIJU! Ron Perlman on PACIFIC RIM