What's your favorite film? Is there a movie that changed your life? Send us an essay of 500 words, give or take, about that film you can't forget — classic or contemporary — and we'll consider it for publication in these pages. In addition to your short essay, send your name, occupation, hometown, phone number, jpeg headshot and e-mail address to editor@AFI.com. We reserve the right to edit for length and clarity.
READER REVIEW: THE BAD NEWS BEARS (1976)
By Sean Macaulay


Sean Macaulay is a screenwriter and journalist. He was the LA Film Critic for the London Times from 1999-07. He wrote the feature script EDDIE THE EAGLE, the story of British ski-jumper Eddie Edwards who came last at the 1988 Calgary Olympics – twice. Martin Campbell is directing with Rupert Grint starring.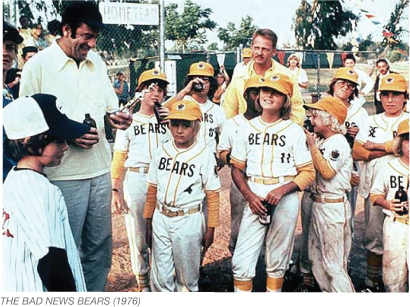 A couple of years ago, Quentin Tarantino compiled his top 10 movies for a Sight and Sound poll. Among the expected gun operas like THE GOOD, THE BAD AND THE UGLY and TAXI DRIVER, he included — of all things — THE BAD NEWS BEARS. My heart rejoiced. This 1976 comedy about a Little League baseball team could well be the most underrated film of the Seventies.
It is a familiar tale on paper — the travails of a rag-tag baseball team over a season. But magically, all the classic sports elements are invigorated by truthful observation. Director Michael Ritchie's offhand style is an unsung joy — affectionate, satirical, witty, and most crucially, unpatronizing. There's not a trace of sentimentality in the film, and yet it's a guaranteed tearjerker for men of a certain age like me, Tarantino, Vince Vaughn, et al.
The Bears are new recruits to the league thanks to a high-minded class action suit, but none of the fathers are around to coach them, so they are lumbered with a drunken pool cleaner (cigarillo-chomping Walter Matthau). They are the classic Rainbow Coalition of misfits — the nerd, the hothead, the fatso, the Muslim, the girl (Tatum O'Neal)... She turns out to the most foul-mouthed of all of them ("Blow it out your bung-hole").
As often seen in the sports movie genre, they are a complete disaster at first. The only uniform sponsors they can find are Chico's Bail Bonds ("Let freedom ring"). They lose the opening game 26-0. But something stirs in the drunken coach and he decides to dig in and turn things around. "This quitting thing," he admits, "it's a hard habit to break once you start."
In a normal movie (and the original script), the Bears would go on to win. But this was the glorious age of gritty downbeat cinema, so the Bears end up losing, cruelly, and worse still having to suffer their smug victors saying sorry for treating them so badly. But rather beautifully, they have acquired something better — their own wonderful ramshackle version of team spirit — so the Bears, Schlitz in hand, get to tell their victors to "take your apology and your trophy and shove 'em straight up your a@$!"
I first saw THE BAD NEWS BEARS at The Coronet, Holloway Road, in rain-lashed North London when I was 10 years old. It was a world away from the exotic suburban haze of the San Fernando Valley with its colorful swearing, no seatbelts, and teenagers on motorbikes. I now live overlooking that same Valley. When my kids were old enough, I took them on a pilgrimage to the original baseball field in Chatsworth where the film was shot. Sad to say, the field has none of the '70s magic of the movie. But I think this just confirms the invisible (and underappreciated) artistry of the film. It's shot naturalistically in a semi-documentary style, seemingly without lighting, so it doesn't feel like a movie, it feels like a world. A great one.
Edit Here