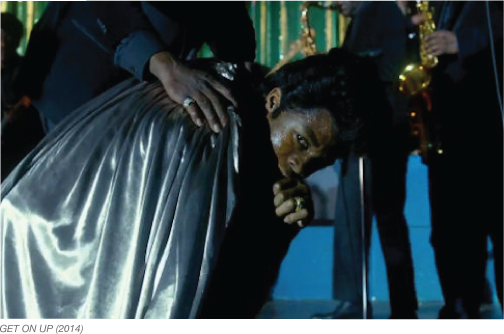 At first, Chadwick Boseman turned down the producers of the new biopic about the music legend James Brown. "I thought, there's no way I could do this," says the actor best known for playing Jackie Robinson in 42. Here he is staring at the weight of history again with another role about a legend. "James Brown is an icon. If you get it wrong, you're going to get a lot of scrutiny. Even if you get it right, you're going to have a lot of people with opinions about it," says Boseman. "I looked at Brown dancing, talking, walking, all the things you would look at if you were studying a character. I was like, there is no way I am going to do this."
Born in the Blue Ridge Mountains of South Carolina, coincidentally the same state where James Brown himself was born, Boseman graduated from Howard University in Washington, DC, with a Bachelor of Fine Arts in Directing, and later the British Academy of Dramatic Arts (BADA) in Oxford, England. With a long list of TV roles in CSI: NY, ER, LAW AND ORDER, LINCOLN HEIGHTS and PERSONS UNKNOWN, Boseman has proved himself time and again.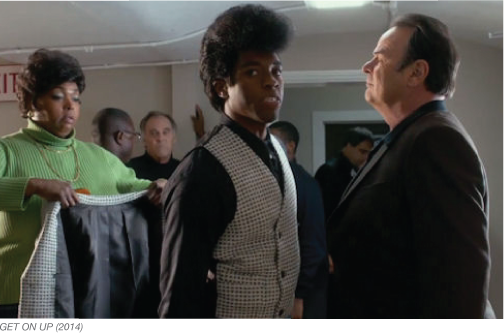 But not just in TV. In film, the roles have just kept coming. THE EXPRESS (2008), playing the Syracuse running back Floyd Little, in DRAFT DAY, recently released, playing a fictional linebacker, and in the yet-to-be-released GODS OF EGYPT. Perhaps poising himself to join the ranks of the rare talent reaching for the heights of the EGOT (Emmy®, Grammy®, Oscar®, Tony®), Boseman has also received critical acclaim for his productions "Hieroglyphic Graffiti" and "Deep Azure," pushing the boundaries of hip hop theatre.
Demonstrating such extraordinary versatility, Boseman was surely the right candidate to play James Brown. Such an icon needed an actor who understood every nuance of performance, whether that be on stage or screen, to play him. Eventually, Boseman was persuaded. Here he talks about his most recent role in GET ON UP.
THE SIGNATURE NOTES OF A MUSICAL BIOPIC
GET ON UP, starring Chadwick Boseman as soul singer James Brown, is the latest in a long line of popular movies that take us behind the music to the person who makes it, often against long odds. Whatever your taste in music, chances are there's a musical biopic about one of its brightest stars.
Like a sold-out concert, musical biopics offer a chance to vicariously live out a lifestyle many of us can only imagine. Actors jump at the chance to broaden their range and showcase their musical chops. Fans enjoy comparing an actor's renditions of famous songs with the originals while receiving the equivalent of an all-access pass backstage. The genre transcends moviegoers' experiences, creating a complex illusion of life imitating art imitating life that allows the audience to place themselves in the shoes of some of their favorite artists.
Musical biopics have their signature notes to the story line progression. The following is a simple, 10-beat breakdown with examples from some of our favorites of the art form.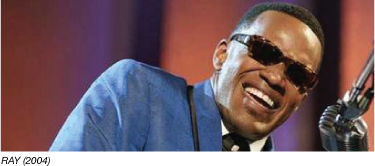 1. The humble beginnings. Ray Charles defied the odds of his humble beginnings in Albany, Georgia, to become a pioneer in the genre of soul music. These scenes establish the limited horizons facing the main character as a result of poverty, racial prejudice or a confining socio-economic background. In RAY (2004), those horizons of stardom literally become a seemingly unattainable blur as we experience going blind from the young protagonist's point of view.
2. The discovery of music. Audiences know that the young person making this discovery is destined for big things, so when a glum young Benny Goodman is handed his first clarinet in THE BENNY GOODMAN STORY (1955) and produces a pitiful squeak, we smile even before the ensuing montage of his musical development puts a smile on the face of his appreciative instructor. Of course, the real discovery comes when a teenage Goodman sits in with a band of jazz musicians just up from New Orleans and finds his passion in the form of improvisation.
3. The crisis of confidence — or overconfidence. With the confidence of a music titan long before they've signed their first record deal, these iconoclasts of music strike out with a zealous bravado that seals their fame in the halls of rock n' roll history. In GREAT BALLS OF FIRE (1989), an upstart Jerry Lee Lewis fights convention by setting his piano afire, driving the crowd wild and making himself an impossible act to follow.
4. The love that inspires. A biopic by definition is about real people — and real people have real love; which means it's often messy. So it comes as no surprise that musical biopics contain a whole lot of love. Often, this love can be expressed only in music, and lifts the hero to new musical heights. The object of this love is often shown in close-up, transfixed or smiling adoringly in the audience. In Ken Russell's THE MUSIC LOVERS (1970), a performance by Tchaikovsky of his piano concerto inspires a succession of exquisite romantic fantasies among three different women — and every sun-dappled, slow-motion twirl of romantic rapture is entirely wordless. The music says it all.
5. The break with convention. Musical greatness is often defined by innovation — showing the courage of one's convictions by sticking with a new, authentic sound — even when the so-called experts remain stuck in the past. These moments from musical biopics often include direct criticism of the new sound and an implicit dare not to play it safe. Sometimes the convention being broken isn't even how the music is being played, but where or when it's performed. In the opening scene of WALK THE LINE (2005), Johnny Cash breaks the warden's rules at Folsom State Prison by refusing to ignore the fact that his audience is behind bars.
6. The big break — discovery. The jump from amateur to professional status is a mainstay of musical biopics. Many rock 'n' roll films contain scenes of recording company executives recognizing talent when they hear it in small, out-of-the-way venues. So firmly is this convention established that in LA BAMBA (1987), the story of Ritchie Valens, our interest in the scout's appearance is used merely to set up the disruption caused by Valens' drunken brother, who starts a fight and wrecks the evening before his brother is ever introduced to his discoverer. Only later does the scout show up at the singer's home and invite him to record.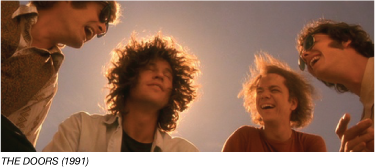 7. The big break-up. To achieve career success, musicians in biopics are often asked to jettison band mates who can't cut it professionally, family or romantic partners who are holding them back. This Faustian bargain turns up in Oliver Stone's THE DOORS (1991) when a snake-like recording executive catches the band's act on the Sunset Strip. "Loyalty don't pay the bills," he says before telling Jim Morrison (Val Kilmer) to "drop those guys." Morrison ignores his advice, and not long afterwards another recording executive comes along and takes the band as it is.
8. The tour of rising popularity. The montage of headlines trumpeting rave reviews at bigger and better venues, intercut with swelling crowds, the bus or train or plane arriving in a new, undreamt-of location — and all to the signature sound of the artist's music. An early example comes from the Academy Award®-winning YANKEE DOODLE DANDY (1942), ranked 98 on AFI's list of 100 Greatest Movies. The charismatic James Cagney (AFI Life Achievement Award, 1974) portrays the legendary American composer/singer/dancer George M. Cohan, who was bestowed the Congressional Gold Medal by President Franklin Delano Roosevelt. In the iconic scene when Cohan leaves the White House, a parade of soldiers and a band marches by singing "Over There," as Cohan proudly joins them.
9. The self-destructive behavior. In LA VIE EN ROSE (2007), we never see the moment that Edith Piaf has her first drink or pill or hypodermic needle, but we are immersed in the street life that she led as a girl surrounded by all manner of vice. Marion Cotillard's performance makes us understand the roots of the singer's pain so thoroughly that such an initiation is unnecessary. And the nonlinear structure of the story emphasizes the fact that, no matter what phase of her life she may be in, the next spilled drink or bloody cotton gauze is only a quick cut away.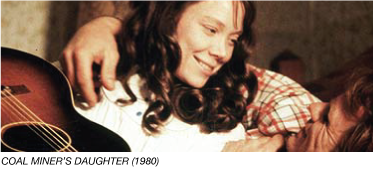 10. The redemption. The comeback is a tradition steeped in artistry and a familiar story point in musical biopics where performers tend to come back better than ever after a setback. In COAL MINER'S DAUGHTER (1980), Loretta Lynn (Sissy Spacek) breaks down on stage after begging her husband (Tommy Lee Jones) not to make her go on. All it takes to restore the soul of the First Lady of Country Music is some quiet time in the country to re-discover her grassroots and find her voice as an independent artist. Lynn returns to the stage, singing her life story in the title song. At last, she owns every part of her identity.
How much did you know about James Brown before you were approached to play this role?
Well everybody should know who James Brown was. He's the pantheon of R&B, funk music, the Godfather of Soul. So of course I knew who he was. In a sense it made it even more intimidating to play someone I had a really deep attachment to.
When did you start to act?
I went to college to get a degree as a director. In the process of directing, I wanted to know what the actors were doing, so I started acting at that point, not thinking that I would actually be an actor, but it soon became something that I felt I had to do.
You've written hip hop plays that have been performed often. Did they serve you in this role at all?
Yes. There's a rhythm and a poetry to the way that Brown speaks. He could be the father of hip hop. I believe James Brown helped the swagger of hip hop.
How much research did you have to do to play the role?
Primary research involved talking to his last wife (his widow), his ex-wives (Brown was married three times), one of his managers, two of his kids and one of his grandchildren. His grandchild, and one of his nephews, was on set pretty much every day. So we had some connection to the family. If I wanted to ask a question, I had access to people who knew him. There was also one of his band members on set who was with us for quite a bit of time.
But this also made it somewhat dangerous. Each one of those people knew him in their own way. He might have been one way with them and another way with someone else. I'd talk to one person and they'd say one thing, and I'd talk to another and they'd say an entirely different thing. So I was hearing a lot of stories, and had to choose what I was going to use and what I was not going to use.
And there's an autobiography, and a lot of footage. But even then there are various versions of him. There are moments when he's being James Brown and moments when he's being himself.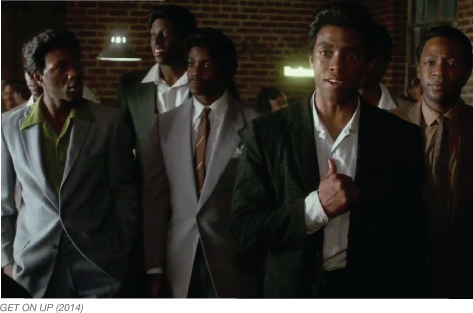 Did it help that you grew up in South Carolina?
Although Brown was born in South Carolina, he moved across the border to Augusta, Georgia, when he was six. I went down to see his family, his house and meet the people in the state. Going through Augusta is very similar to where I am from, Anderson, South Carolina. I wanted to go there to see what the people were like. That definitely helped. It makes it a little more authentic, I think.
Are you musical yourself?
I don't really have a musical background. I love music. I am a connoisseur of music. I've played around with hip hop and stuff like that. But I've never touched a musical before.
So did you have to train your voice?
Even more important than the voice was very extensive dance rehearsals, running from three to eight hour a day (Brown was famous for his fast and furious footwork). That was part of the regimen. It was two months of really intense dance rehearsal and vocal rehearsal.
Do we hear you singing on the film?
No. Not that I can't sing, but I think most people would agree that you want to hear the real James Brown singing [in the film]. So you have him singing throughout the film. My task was the transfer of his speaking voice to his singing voice. Vocally it was about being able to match up with him.
How did you come to look like him?
Oh man. I lost a lot of weight. I had just gained maybe 25 pounds to do DRAFT DAY. I was just coming out of that where I bulked up to be a football player, so then I needed to go below my normal weight to be like James Brown, and have the possibility of his cheekbones. I probably lost more than 35 pounds. It was a lot.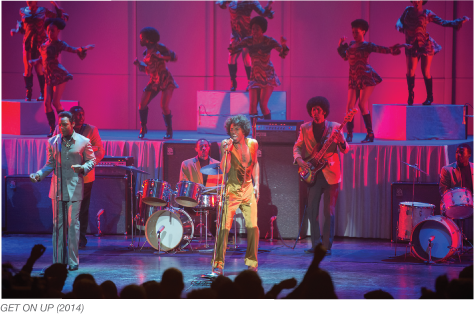 How did you do it?
It was the dancing. I wasn't on any diet.
And make-up?
On some days it took over three hours. The older he was, the longer it took.
James Brown had the reputation of being the hardest working man in show business. How was that for you? Did you become the hardest working man in show business?
To be honest with you, people on set would say just that to me. They'd say, "You are the hardest working man in show business right now." Brown did those dance moves all of his life. He developed that style, that whole culture. So in order for me to attempt to catch up to that, I had to do it all the time. I had a driver who would come and pick me up and take me on set — in Mississippi where we were filming — and he'd say, "I come pick Chad up, but by the time you get out of the car, you're Mr. Brown. And Mr. Brown gets back in the car at the end of the day, and Chad gets out." That was his way of explaining it to me.
What is the most remarkable thing you learned about James Brown by playing this?
For me, he was almost like a prophet from the Old Testament. He was flawed. He sometimes lived up to what he was selling people, but sometimes he was doing it for his own reasons. There was manipulation there. But somehow he still seemed to serve a higher purpose. The other thing was that he really claimed his own identity. He defined himself and made everyone else see him as that. He had an extraordinary sense of his own power.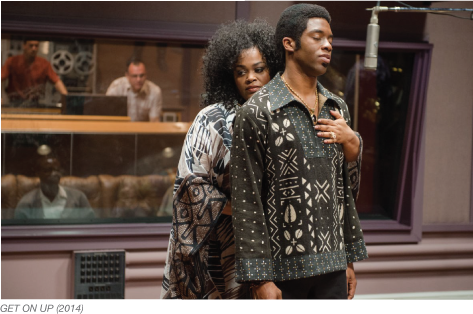 Was there any common ground between playing James Brown and Jackie Robinson?
They both had a certain audacity.
You've now done two biopics. Is this going to become your calling card?
I'd like to play more real people, but other icons? I think I should wait on that, because I don't want to make that what I do all the time. And I think these two experiences have been so special.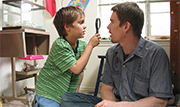 JULY
BOYHOOD: Unsurpassed Achievement In The Passing Of Time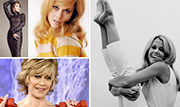 JUNE
The AFI Jane Fonda 30-Question Workout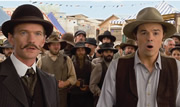 MAY
A MILLION WAYS TO DIE IN THE WEST: #1 Laughing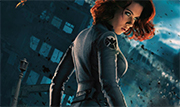 APRIL
Captain America's Superheroine